Market surveillance & recalls
Market surveillance and product monitoring
As a manufacturer or distributor of products, you have to fulfill far-reaching and comprehensive obligations. You need to develop, design and manufacture your products according to established standards. This does not only apply to automotive products. From children's toys to chemical or pharmaceutical products, almost all products are subject to legal requirements.
The legislator expects you to monitor your products even after they have been placed on the market and to identify possible risks. These risks can be based on design errors or manufacturing defects. However, use can also harbor risks that you did not take into account or recognize during the development and validation of your products.
The line between intended and foreseeable use, and especially the line between that and improper use, can be a fine one. In addition, widely ramified supply chains make it necessary for you to also keep an eye on your competitors' products – after all, a defect could be based on a comparable or identical supplier part.
Regulatory shutdown measures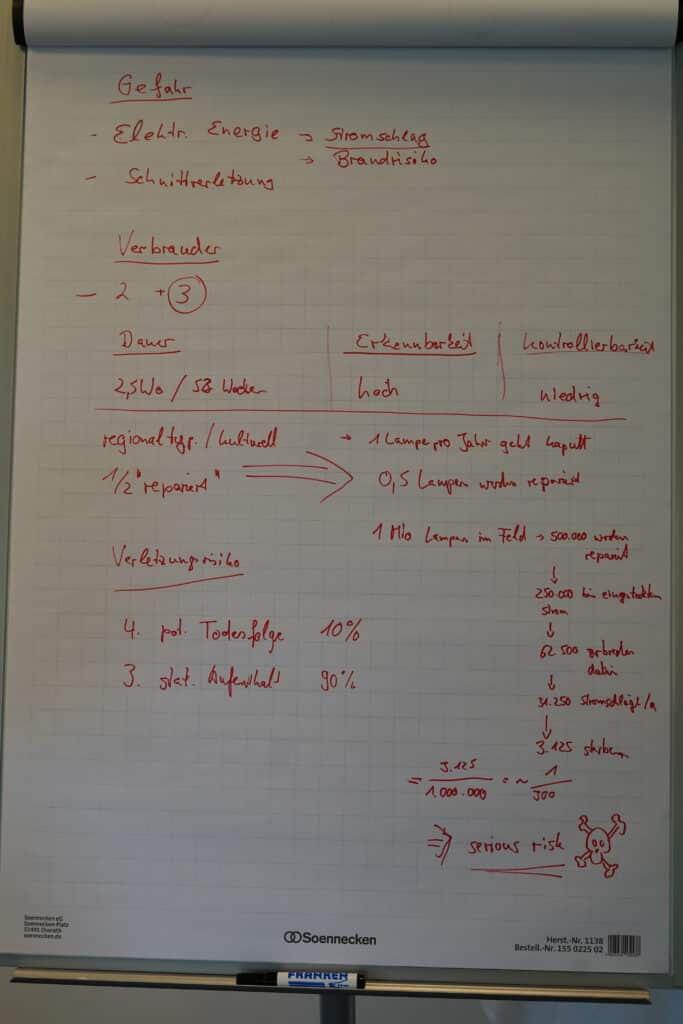 If your product poses a hazard or is not compliant, you as the manufacturer are obligated to take action! Approval and market surveillance authorities expect an effective error correction process. If you react quickly and competently, you may even be able to prevent an entry in authority portals (e.g.: RAPEX/Safetygate).
It is therefore very important to identify errors quickly and to develop and implement corrective measures.These corrective measures must be suitable, necessary and appropriate. In the course of failure analysis, failure cause analysis and risk assessment, it may also become apparent that a recall is not the best means to eliminate the failure.We will be happy to advise and accompany you with our services in the form of expert opinions, recall management and training in the area of market surveillance and recalls!
Expert opinion on product defects
Once you have identified a hazard, it is important to quickly identify the error and the cause of the error and to derive and implement appropriate measures. The spectrum can range from optimizing the products, informing the customers, coordinated recall with reworking of the product to destruction of the product.
Here we can support you with our specialized team of experts. Our legally and technically experienced staff will prepare fault analyses, risk assessments and remedial measures for you, e.g. in the form of expert reports. You can use our impartial expert opinions vis-à-vis authorities or in the context of court proceedings to objectify situations and, if necessary, to protect yourself. to defend.
Among other things, we prepare expert opinions on:
Detection and technical evaluation of complaints and risks
Error, cause & effect analysis
Assessment of whether approval-relevant requirements or conformity requirements have been violated
Recall management
If the need for a product recall is confirmed, an elaborate process usually kicks in. Small and medium-sized companies in particular quickly reach their limits here. The neutral view from the outside is missing and the experience and not least the resources in the company are limited. At the same time, the available resources are tied up all the more by the initiation of shutdown measures, ensuring the availability of spare parts and identifying affected customers.
We will help you with the implementation of the recall. Our many years of experience, technical expertise and routine communication with authorities will help you to handle a product recall quickly and without complications.
We are also happy to take over the complete recall management for you – from fault analysis to the reworking of your products.
We can be reached directly at 0175/72 75 222. Or by eMail to info@recall-support.de.
Qualification
We have combined our broad knowledge and experience in the field of market surveillance and recalls in a one-day training course. You can find more information in the Training section.
Contact our experts
We will help you – Feel free to contact us!
Do you want to rebuild or optimize your business processes and tools for market surveillance and recalls?
Do you want to establish an efficient and effective recall management and prepare for the worst case scenario?
Do you need help with the conformity assessment of your products?
Do you need help with fault analysis, risk assessment and deriving appropriate and suitable remedial actions?
Do you need a court-proof expert opinion?
Would you like to qualify yourself or your employees in the area of market surveillance and recalls?
Do you need additional staff resources to plan and execute callbacks?
Tel: 069/153 22 51 10
Mail: info@recall-support.de